Welcome to the Puppetry Home Page!
The Puppetry Home Page is produced by Rose Sage Barone of Sagecraft Productions and Nick Barone of Nick Barone Puppets, who are aided by contributors from the puppetry community world-wide. The Puppetry Home Page is a free resource for the puppetry community and is dedicated to helping people connect with the world of puppetry.
Rose Sage Barone and Nick Barone

---
PuppetFest Midwest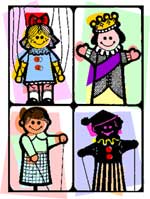 Held annually in July at North Central Missouri College in Trenton, Missouri, USA

This is a festival that we have volunteered at for the past few years. We highly recommend it for a hands-on puppetry experience.

See you in Trenton. Rose and Nick
---
---
Puppetry Definitions


Interested in different types of puppets? From Animatronics to Bunraku to Motion Capture to Pelhams to Shadow Puppets, you can find information here!
Puppet Building


Information about making your own puppets, including instructions and where to obtain supplies.
Using Puppetry


Information on puppet plays, puppet productions, using puppets in theater productions, in video and in films, notable puppeteers, puppetry awards, puppetry in therapy and education, funding and how to use puppets effectively in your performances.
Other Puppetry Sites and Resources

Other WWW pages devoted to puppetry, online puppetry magazines, information about chat channels, newsgroups, mailing lists, puppet books, and sites with puppet activities for children.
---
The Puppetry Home Page - What's New - Puppet News
Puppetry Definitions - Puppetry Traditions Around the World - Puppet Building & Building Materials
Using Puppetry - Puppetry Schools, Workshops & Internships - Puppetry Organizations
Puppetry Festivals - Puppetry Exhibits & Museums - Other Puppetry Sites & Resources
Questions